Furnace Installation Services
Homeowners in Aurora realize how important a furnace is when it comes to keeping warm and protecting their homes. When the chilly Aurora winter hits, it's essential to have a reliable heating system that you can count on. With Grand Home Services' Aurora Furnace Installation, we guarantee to provide you with a heating solution that fits your needs.
Heating Installation
Choosing Grand Home Services for your Furnace Installation comes with many advantages. Our professionals will help you choose a furnace that consumes less energy while providing maximum heat output, leading to considerable savings on your energy bills. We'll even assess your home's layout and insulation to determine the best size and type of furnace for your needs.
Installing a furnace involves dealing with hazardous materials, like gas and electricity. Our skilled technicians understand these risks and follow rigorous safety protocols during every installation process. You can rest easy knowing that your safety is our top priority.
Why Choose Grand Home Services?
With Grand Home Services, you're assured of a long-lasting solution. We believe that quality installation service is an investment that should stand the test of time. To this end, we install only the highest quality furnaces from reputable manufacturers. Additionally, our work is backed by comprehensive warranties to give you peace of mind.
Overall if you feel the system you currently have in your home is not doing a good job of keeping your home comfortable in the winter months, then you may want to look at having a new furnace installed. It is important to have a heating system that works to protect your home's plumbing and keep you warm.
We understand that furnace installation can be a significant investment.  Our dedicated staff is always ready to answer any questions or concerns you may have before, during, or after the installation process. Contact us today to get started.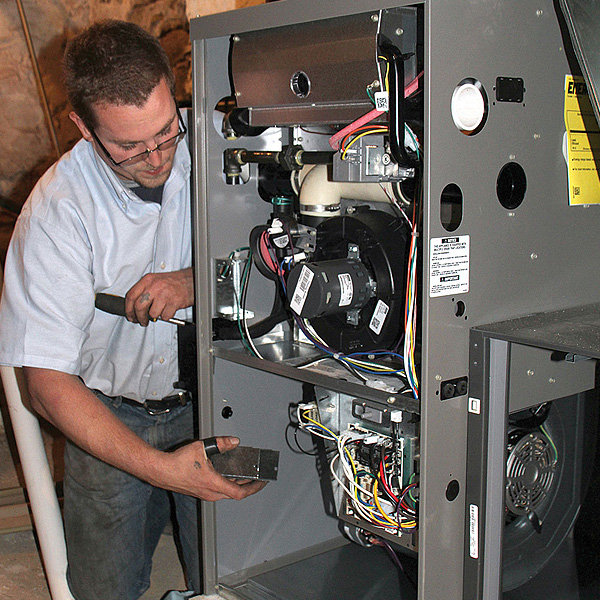 Furnace Replacement
If your furnace is aging, or you have noticed that it is not heating your home as it once did, you may need to think about furnace replacement.
Here are some signs that you may want to look for:
Your furnace is between 10 to 15 years old.
You have noticed that your furnace can no longer keep your home comfortable.
The air in your home feels unusually dry and there is more dust build up occurring.
There is uneven heating occurring with cold and hot spots throughout.
Your energy bills are constantly getting higher.
Your energy bills are much higher than others with comparable homes in your area.
You find you are calling for repairs too often.
As your furnace ages it has to work harder to heat your house, this can result in more wear and tear, higher energy costs, and a struggle to keep your home warm. If you are in need of furnace replacement in Aurora, contact the team at Grand Homes Services today.
Replacement Equipment
Click on the links below to view different choices available for replacing your current equipment.