Boiler Inspection & Cleaning Services
Your Aurora boilers will last longer and experience fewer problems along the way when maintained properly. Regular boiler inspections and proactive maintenance can save you money by reducing future repairs while also providing more efficient and consistent heating. In Colorado, we all know the importance of a boiler running safely and smoothly throughout the heating season!
The best things that homeowners can do for their boiler is to conduct occasional visual exams and schedule annual maintenance. Routine checkups provide extra protection and foresee problems before they get worse. You should also check for visible leaks, dirty filters, and adequate water levels.
Grand Home Services has the necessary expertise to provide a thorough boiler inspection and cleaning, which includes:
Flushing the system and clearing dust and debris
Removing lime scale and mineral deposits
Repairing leaks and replacing parts as needed
Lubricating mechanical parts
Testing airflow and making sure the flue works safely
Testing fuel pressure and water pressure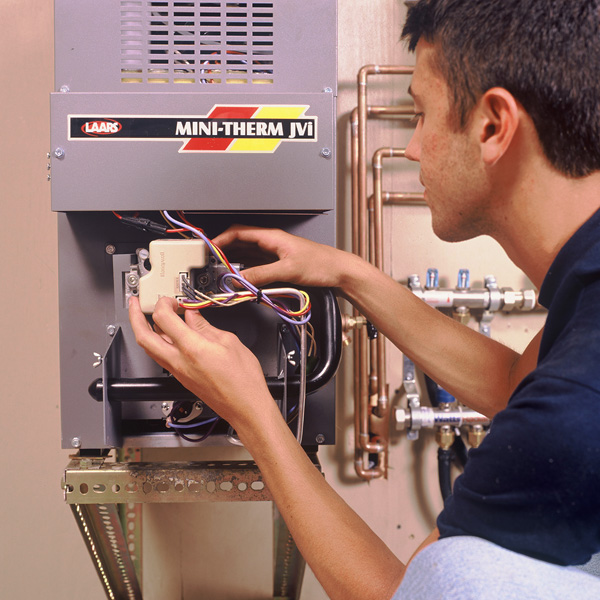 Experts in Boiler Maintenance
Boilers have a very special set of requirements, and there are many kinds of boilers. Grand Home Services in Aurora knows how to inspect and maintain each kind — gas or oil, steam or hot water, old and new models.
Boiler maintenance protects your personal health and safety, your chimney and other house structures, and of course the home comfort and energy efficiency of your heating system. You need more than a quick check of the basics. You need thorough maintenance from heating and cooling professionals who know what to look for and how to optimize the boiler.
Grand Home Services offers service you can trust with open communication about any problems and the best solutions. We warranty our parts and labor for one year, and all our technicians are licensed, certified pros.
For an expert level of maintenance and friendly customer service, contact the boiler experts at Grand Home Services in Aurora for regular inspections.