Water Heater Installation and Replacement Services
Your Colorado home's water heater plays an important role in keeping everyone comfortable. From washing dishes to having a nice long, hot shower, without a reliable water heater, you may find everyone in your home complaining. Whether you have a new home or you are wondering if it is time to replace your old water heater, water heater installation can be quick and effective when you choose a professional to complete the job.
Water Heater Replacement Services
If your water heater is aging you may be wondering if now is the right time to replace it or not. Here are some good signs that it may be time for a new water heater in Denver:
Age – If your water heater is 10 years old or more, you may want to consider replacing it before it fails. This can also lead to higher efficiency that will save you money in the future.
Rust – If you have rust on the outside of your water heater you will want to replace it before leaks occur. Rusty water coming from the heater is also a good sign that it is time to replace your water heater.
Rumbling, Popping or Whirring – If your water heater starts to make loud unusual sounds this can be a good indication that it reaching the end of its lifespan. Many of these noises are caused by sediment build up and this can cause further damage and greatly reduce efficiency.
Water Pooling – If there is water pooling around the outside of your hot water heater there may be a fracture or small crack in the tank. This is a good sign that your water heater is ready to be replaced.
If you have any of the above signs are happening with your water heater, call the Aurora water heater replacement experts today at Grand Home Services.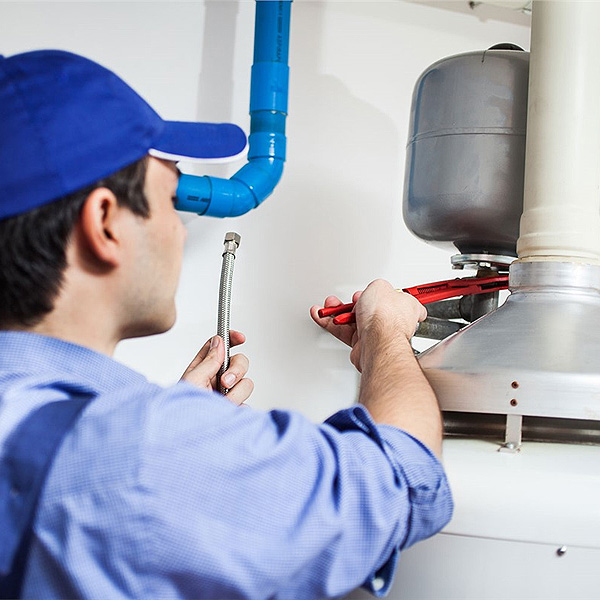 Water Heater Installation Services
If you have a new home, you are remodeling or you just discovered from reading above that you may need water heater installation there are two main options you can go with.
Tankless – Tankless water heaters is a compact heating model that supplies you with all the hot water you will need. There is no need to pre-heat the water in the big tank as the tankless system heats as it goes.
Traditional – Traditional models with the large tank are now a lot more energy efficient than they used to be. If you choose the right model your new system should also have a longer lifespan thanks to new tank designs.
The team at Grand Home Services install Rheem water heater systems. We believe these systems give our clients the best in energy efficiency and innovation, keeping everyone in your home happy.
Contact us today for water heater installation in Aurora and the surrounding Denver Metro Area.
Replacement Equipment
Click on the links below to view different choices available for replacing your current equipment.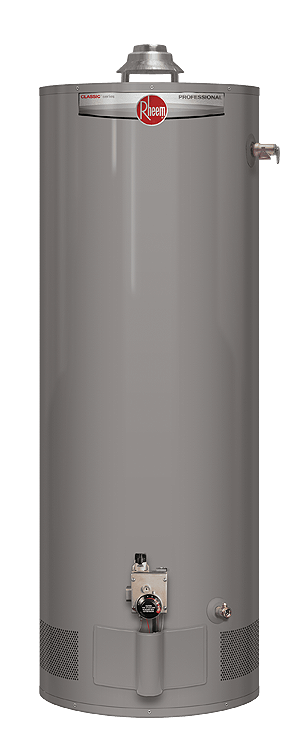 Rheem Professional Classic Plus Water Heater
Atmospheric gas water heaters are engineered for more hot water at a low operating cost.
Highlights
.58 – .66 UEF
FHR: 51 – 87 gallons
Recovery: 30.3 to 40.4 GPH at a 90° F rise, depending on model
Guardian System  & Sensor
Exclusive air/fuel shut-off device
Maintenance free – no filter to clean
Protective control system that disables the heater in the presence of flammable vapor accumulation
Eco-friendly burner, low NOx design
Meets 40 ng/J NOx requirements
Premium grade anode rod provides long-lasting tank protection
Easy to light – no matches required
EverKleen™ patented system fights sediment build-up
Enhanced flow brass drain valve