Professional Thermostat Installation
A programmable thermostat is ideal for people who are away from home during set periods of time throughout the week. Through proper use of pre-programmed settings, a programmable thermostat can save you about $180 every year in energy costs.
Modern thermostats make it easier than ever to control your home comfort and take charge of those utility bills. Whether you want a simple dial or a touchscreen display with smart home features, Grand Home Services in Aurora can help you choose the perfect thermostat for your needs, and our skilled technicians will install it professionally for long-lasting performance.
Installing a thermostat requires knowledge of both electrical wiring and HVAC systems. Upgrades can get tricky depending on the old system and the new thermostat. For example, many programmable thermostats need a different kind of wiring than old manual ones.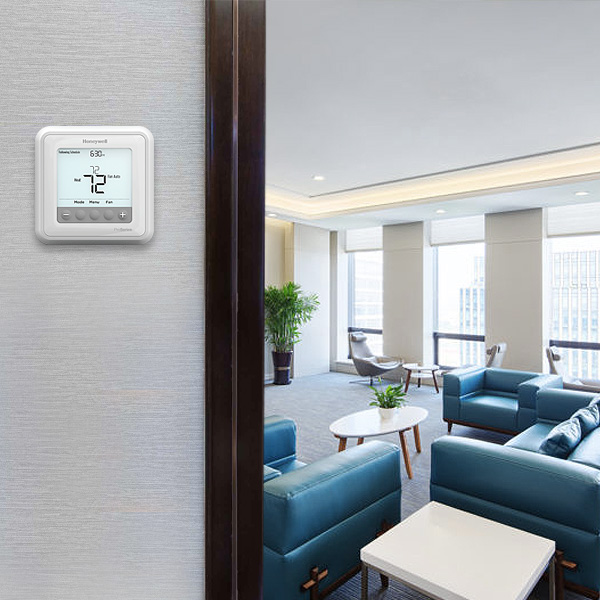 Reasons to have a professional install a new thermostat include:
Upgrade to new features for lower utility bills and better comfort
Set it and forget it — programmable thermostats keep you comfortable around clock with high efficiency
Add thermostats for a zoning system
Electrical wiring requirements are best left to the pros
Mercury in old thermostats must be properly disposed
Changing your HVAC equipment? Enjoy optimized performance with a new thermostat
Grand Home Services is here to help our customers select the best thermostats based on your heating and cooling needs. Get in touch with us today to schedule a thermostat installation in the Denver area.
Programmable Thermostats: Features, Options, & Benefits
More and more homeowners are discovering how programmable thermostats are a life-changer. These models can save you money and keep you more comfortable without your having to lift a finger. Change the settings for times when you're away, and you reduce wasted energy. Set it to condition the air before you get home, and you'll come home to a perfect temperature!
Other great benefits and optional features of programmable thermostats:
Daily schedules and temporary vacation settings

Touchscreen

 interface
Current models are even more user-friendly than old programmable thermostats
Smart sensors for humidity
Display energy efficiency based on temperature settings
App and 

Wi-Fi

 friendly
Schedule a Thermostat Installation in the Denver Area
Take control of your home heating and cooling! Our friendly staff of licensed and certified technicians will advise you about the selection and location of your thermostat and install it with precision. For thermostat installation in Aurora and the surrounding Denver area, call Grand Home Services at 720-365-1187.
Replacement Equipment
Click on the links below to view different choices available for replacing your current equipment.
Honeywell T4 Pro Thermostat
The T Series programmable thermostat streamlines everything from product selection and installation to customer service and support. With a standard footprint and simple interface, the T Series will enhance the entire thermostat experience for you.
Features
7-day, 5-2, 5-1-1 or non-programmable
Uses the UWP mounting system that's standard across all T Series thermostats
Simple push-button functionality
Filter change reminders