Tankless Water Heater Installation Services
Water heater systems have a lifespan of around 10-15 years, this means at some point as a homeowner you are going to have to replace a water system in your home.
If you are due for a change when it comes to your water heater you may be considering a tankless water heater. These systems have become popular in Aurora and throughout Colorado over the past decade and with good reason.
About Tankless Water Heaters
Tankless water heaters take up a lot less space than a traditional water heater. This means these water heaters can be stored in a small closet or smaller area in your home. In addition to this, they are extremely energy efficient. They use 30 to 50 percent less energy than a traditional heating unit. This can lead to large savings on your energy bills throughout the year.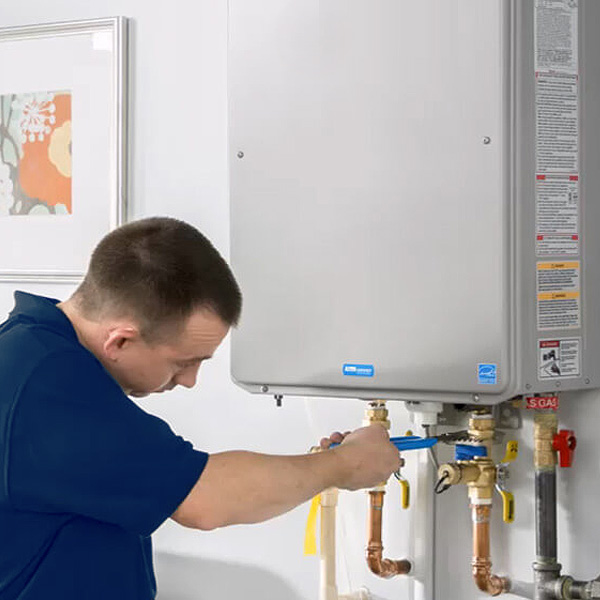 These systems work by only heating the water as it is needed. So, as you turn on your hot water tap, the heating elements go to work heating the water as it sends it through the pipe and through to the faucet. This is how you save money; you are not heating water that you might not need all day long, you are heating as you go and this also allows endless hot water. You may want to consider that there are limitations to how much you can heat at one time and this will depend on the size of the tankless water heater.
Tankless water systems also cost more than a standard water heater, some units may cost up to three times more than the standard units. When considering installation costs it is important to remember how much a tankless water system can save you over the next 10 years. Often this will balance out quickly with the savings you are receiving on your energy bills.
Tankless Water Heater Installation
When it comes to installing a tankless water heater, it is important to have a professional do it. Installing the tankless water heater includes special venting requirements. This is a special system that needs to be designed properly so that your home remains safe.
If you feel that a tankless water heater system would work well in your Aurora home or you are looking for more information on a tankless water heater system, the team at Grand Home Services can help.
Call us today at (720) 365- 1187 to talk about the best solution for your needs.
Replacement Equipment
Click on the links below to view different choices available for replacing your current equipment.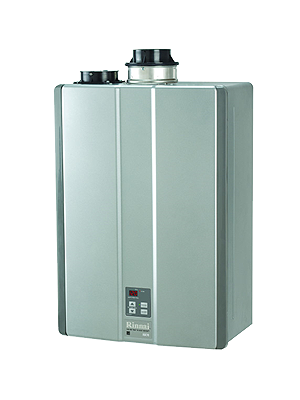 Rinnai Tankless Water Heater
Enjoy an endless supply of hot water with the Rinnai RUC98iN, one of our most efficient condensing natural gas tankless water heaters from Rinnai. Only the size of a small suitcase, the RUC98iN is compact, easy-to-install and perfect for indoor locations.
Highlights
ENERGY STAR® Qualified with an Energy Factor of 0.95 / Uniform Energy Factor of 0.92
15,200 BTU/h 4.5 kWh (Minimum) / 199,000 BTU/h 58.3 kWh (Maximum)
Warranty 12 yr / 5 yr / 1 yr