Ductless Heat Pump Services in Colorado
Ductless heat pumps are an elegant solution for Colorado homes without existing ductwork. They also work wonderfully in finished basements and home additions, or anywhere you want efficient heating and cooling for one specific area.
Heat pumps use electric power to generate forced-air heating and cooling. The ductless version is installed into the wall or ceiling to treat a room or area without the need for central ductwork. You can even connect multiple indoor units to one outdoor unit to power heating and cooling for several rooms.
For ductless heat pump installation, repair, or replacement in Aurora or the surrounding Denver area, call Grand Home Services at 720-365-1187.
Ductless Heat Pump Installation
Professional installation from Grand Home Services is your best option to make sure that your heat pumps are sized and located properly and set up to perform efficiently and reliably over the years ahead.
The main benefits of installing a ductless heat pump include:
No need to add ductwork
High efficiency, low operating costs
Runs electric, not oil or gas
Perfect for single rooms, with the option for multiple units
Very safe: only needs a small opening in the wall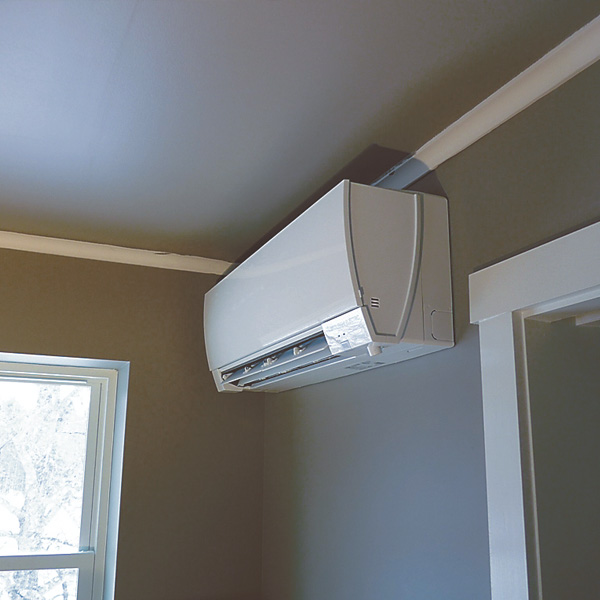 Ductless Heat Pump Repair
In the rare event that your heat pump struggles or breaks down, turn to the HVAC professionals with real knowledge of these unique systems. Grand Home Services offers expert ductless heat pump repair in Denver and the surrounding area.
We can check the temperature controls and circuit board, the motor, the compressor and condenser, and all other parts of the heat pump to find the problem and make the necessary repairs or parts replacements.
Call us immediately for ductless heat pump repairs — we're available 24/7 for emergency service if necessary!
Ductless Heat Pump Replacement
We also offer ductless heat pump replacement services when your unit has reached the end of its life cycle. Our friendly team can discuss your options to find the most energy-efficient and properly sized heat pump for each space in your house.