Boiler Repair and Maintenance Services
If you use a boiler to heat your Colorado home, it is important to keep your system in good condition. When something does go wrong with your boiler it is a good idea to call for boiler repairs straight away. Small issues can quickly turn into expensive and even dangerous problems when it comes to boilers, so contacting an expert quickly is always important.
If your boiler is in need of repairs, contact the team at Grand Home Services. We work throughout Aurora and all over the Denver area to keep homeowners comfortable, no matter the season.
Click here to view the boiler manufacturers we service >>
Boiler Repair Services
It is important to keep your boiler well maintained and in good condition, however sometimes things still go wrong.
Here are some signs that it may be time to call the heating experts for boiler repair:
You notice water leaking and pooling around your boiler.
Your boiler is making weird sounds that appear to be getting louder.
Your home feels colder than the reading on your thermostat.
You have uneven heating throughout your home, some rooms are cold while others are boiling hot.
There are funny smells coming from the boiler.
You have noticed a sharp rise in your energy costs.
Your boiler has stopped working altogether.
You notice rust on the outside of your home's boiler.
All of these signs can be an indication that your boiler is not working correctly and it is best to call for repairs as soon as you notice any of these signs. Grand Home Services are heating experts in Aurora, and we can help you get your boiler back up and running so that your home remains comfortable.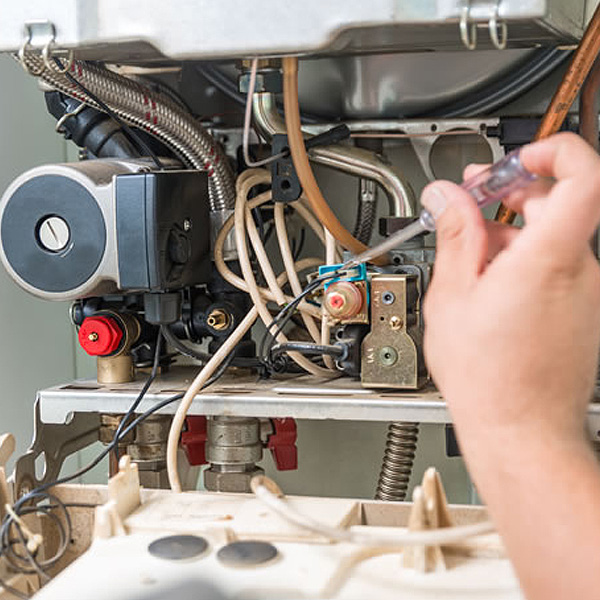 Boiler Maintenance Services
Boilers have a very special set of requirements, and there are many kinds of boilers. Grand Home Services knows how to inspect and maintain each kind — gas or oil, steam or hot water, old and new models.
Boiler maintenance protects your personal health and safety, your chimney and other house structures, and of course the home comfort and energy efficiency of your heating system. You need more than a quick check of the basics. You need thorough maintenance from heating and cooling professionals who know what to look for and how to optimize the boiler.
Grand Home Services offers service you can trust with open communication about any problems and the best solutions. We warranty our parts and labor for one year, and all our technicians are licensed, certified pros.
For an expert level of maintenance and friendly customer service, contact the boiler experts at Grand Home Services in Aurora for regular inspections.