Furnace Installation & Replacement Services in Aurora
Homeowners in Aurora realize how important a furnace is when it comes to keeping warm and protecting their homes. Colorado winters can be cold, and while we get plenty of sunshine, your home can still feel like you have opened the freezer door, rather than feeling warm and comfortable.
If you need furnace installation or replacement, contact the team at Grand Home Services. We offer a full range of heating services throughout Aurora and the Denver Metro Area.
Furnace Installation
Whether you are building a new home, replacing an older system, or you are looking to heat your home more effectively, furnace installation or replacement can help you enjoy the winter season.
Overall if you feel the system you currently have in your home is not doing a good job at keeping your home comfortable in the winter month's, then you may want to look at having a new furnace installed. It is important to have a heating system that works to protect your home's plumbing and keep you warm.
Here are some signs that your furnace may be nearing the end of its lifespan:
Your energy/gas bill takes a sharp rise without good reason.
Your current furnace can no longer keep your home comfortable.
You have cold spots throughout your home while other rooms are hot.
Your furnace is more than 15 years old.
You hear strange or unusually loud noises coming from your vents or furnace.
The air in your home feels stale and may have a musty smell.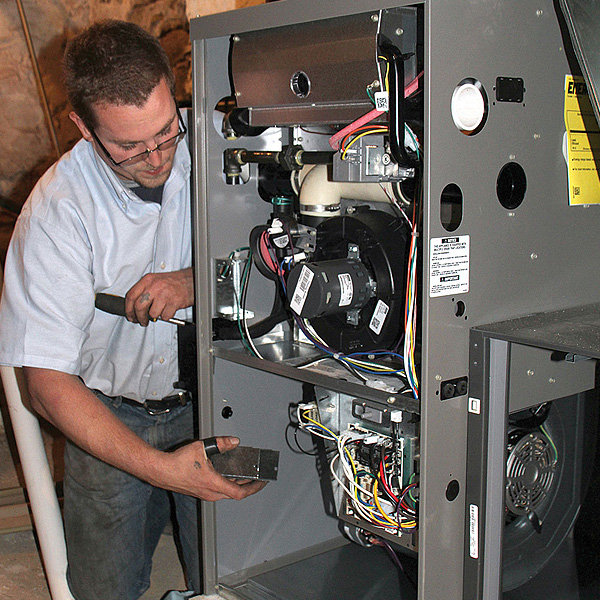 Furnace Replacement
If your furnace is aging, or you have noticed that it is not heating your home as it once did, you may need to think about furnace replacement.
Here are some signs that you may want to look for:
Your furnace is between 10 to 15 years old.
You have noticed that your furnace can no longer keep your home comfortable.
The air in your home feels unusually dry and there is more dust build up occurring.
There is uneven heating occurring with cold and hot spots throughout.
Your energy bills are constantly getting higher.
Your energy bills are much higher than others with comparable homes in your area.
You find you are calling for repairs too often.
As your furnace ages it has to work harder to heat your house, this can result in more wear and tear, higher energy costs, and a struggle to keep your home warm. If you are in need of furnace replacement in Aurora, contact the team at Grand Homes Services today.
Replacement Equipment
Click on the links below to view different choices available for replacing your current equipment.